Hyaluronic Acid, a star ingredient that fights the signs of aging
As Test Divas we see a lot of different products…a lot.
Rapidly gaining cult status among these is hyaluronic acid, a key ingredient in many new skincare products. Admittedly, the name is a bit of a tongue-twister, and the thought of putting anything "acid" on our skin, frankly made us a bit uneasy when we first heard about it. So, we took a deep dive into this wondrous chemical to learn a bit more.
Hyaluronic Acid or HA, is a gel-like substance, that occurs naturally in your own body, in skin, connective tissues and eyes. It's the star ingredient in injectable fillers like Juvéderm or Restylane as well as in topical products, like Pura Botanicals Hyaluronic Ruby Serum.
Unlike the caustic effects of acid, which in its best light is associated with peeling properties, hyaluronic acid molecules bond with water to keep your tissues lubricated and moist. It's found between skin cells, rather than within them. Seen as an anti-aging wunderkind, it promotes plumpness and smooths out fine lines.
Although it's been around since 1934 when two German biochemists first classified it, it didn't take off in the world of cosmetics until the '90s when scientists were intrigued by an older population in Yuzurihara, Japan. They looked much younger than their age. The researchers discovered that it was because these octogenarians ate a diet that promoted high levels of HA.
Now that's food for thought.
Our Test Diva, Andrea Green, recently tried the Pura Botanicals Hyaluronic Ruby Serum. Here's what she shared:
Multi-use products are becoming more prevalent in my self-care rituals, and for good reason. In the case of the Hyaluronic Ruby Serum by Pura Botanicals, it truly has simplified my evening skincare routine. As someone who tends to spend ample time outside, this product has revealed itself to be a hidden treasure in more ways than one.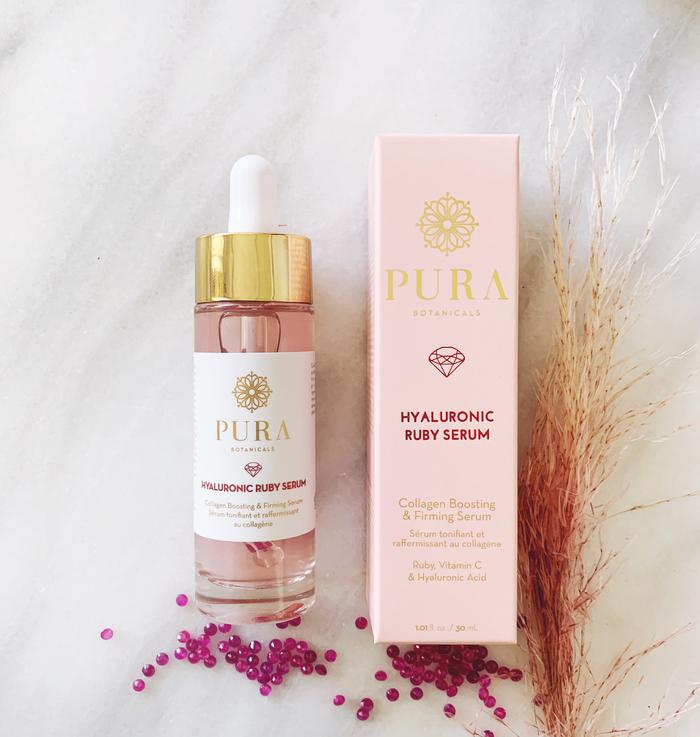 This mild exfoliant helps to:
Improve collagen synthesis with Hyaluronic acid, Vitamin C and natural fruit acid
Create a plumping effect on fine lines and wrinkles (mine are from laughing of course)
Form a barrier effect to prevent the skin from losing water content
…to name a few.
Not to mention, there is a ruby gemstone chip in every bottle, representing power, nobility and vitality. It also aids in improving circulation and strengthening the soft tissues of the face.
I've added this serum to my evening ritual as a preservation treatment. Upon application, it smoothes over the skin gracefully and absorbs before I can even say: "Good night!" Each morning I'm pleasantly greeted by a fresh, radiant complexion to start the day.
Needless to say, the hype around Hyaluronic acid is well worth it.