Summer is finally here and with the heat, humidity and fun it can be hard to maintain your beauty regimen. Whether you're travelling, swimming or sunning this season, we found some products that you'll definitely want to take along for the journey!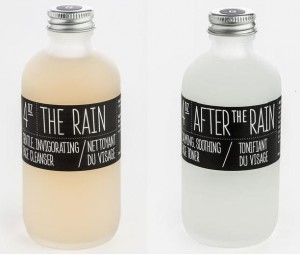 With the beautiful rays of sunshine summer brings, we also have to deal with the heat, humidity and impurities that are harsh on the skin. Belmondo has just the products to keep your skin looking refreshed and hydrated with their cleanser/toner set, The Rain and After the Rain. These cool and invigorating products gently refresh the skin with natural ingredients such as apple cider vinegar, lavender, aloe and rose. The Rain set is great for those with acne-prone, blemished or oily skin, as well as those who suffer from eczema. The best thing about these products? They're great for a low-maintenance girl (or guy) as there is no need to wash off so it can be used any time you need a quick refresh.
The Face Effects Perfecting Polisher by Spa Sonic is a great tool when you're on the run. It comes in a variety of cute patterns including animal print, if you feel like taking a walk on the wild side! The polisher is compact in a handy travelling case, so it can fit nicely in your suitcase or summer bag. Pick your favourite cleanser and pair them together to keep your summer glow all season!
Mia Beauty Tony Ties are perfecting for keeping your messy bun or sleek pony tail intact! They come in a variety of bright colours and patterns. Accessorize your look and use them as bracelets to ensure you always have a tie on hand. Great for trips to the beach, camping or travelling!