2023 Aspire Spa & Wellness Soirée
Celebrating excellence and innovation within the Canadian spa industry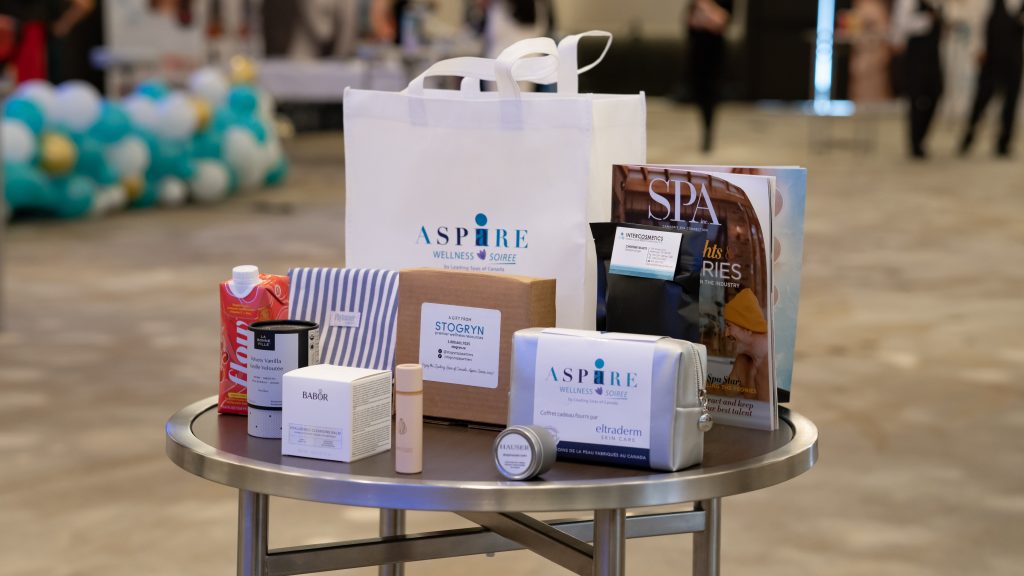 It's certainly been a remarkable past number of years for businesses operating in industries all over the world. Rife with challenges that impacted operations at just about every turn, it's been a time that has tested the fortitude and resolve of many. However, as we continue to foray slowly out of the pandemic era and into an environment that is beginning to resemble a return to "normal," attitudes and behaviours among the public are changing slightly, yielding hope and optimism for business owners and increased excitement and positivity concerning the future. And, it was that very excitement and positivity that served as a backdrop to this year's Aspire Wellness Soiree – an event designed to celebrate all of the excellence and innovation that's driving the current and future success of the Canadian spa industry.
Hosted by Leading Spas of Canada, and held at the newly renovated Park Hyatt Hotel in downtown Toronto on April 24, the event afforded incredible networking opportunities for attendees to share ideas and best practices, and served as a repository of industry insights and information, sparking engaging discussions concerning the most significant challenges faced by the industry today.
Ensuring a healthier tomorrow
Emceed by Gregory Macdonald, founder and CEO of Bathorium, the event kicked off with a lively presentation by keynote speaker and founder of the "Without Losing Your Cool Movement," Shantelle Bisson, who spoke about the role of women as caregivers, their importance within the hierarchy of their families and society, and their critical need to develop better habits to ensure a healthier tomorrow for themselves and the lives they touch on a daily basis.
Thought-provoking discussion
In addition, the annual must-attend conference for spa industry professionals and their partners featured a captivating and thought-provoking Q&A panel that focused on "Navigating the Spa Industry: Overcoming Staffing Challenges and Developing Effective Compensation Strategies." Panelists helped provide a spectrum of insights and perspectives and included Kathryn Gallagher, chair of Leading Spas of Canada and full-time professor at Seneca College; Elena Zinchenko, spa director of Ten Spa at The Fort Garry Hotel. Grace Burzese, founder of Beauty Incubator Recruitment; Viviana Quesada, corporate director of wellness and spa for Pearle Hospitality; and Humber College student Alexandria Petruzzelli.
The panel of experts addressed challenges related to the recruitment and retention of talented staff, ways to reward and incent employees beyond monetary compensation, the opportunities that are available to establishments that continue to enhance the care and consideration they pay toward providing an exceptional experience for their employees, and a number of other industry-specific topics. For a follow-up to the Q&A that took place at the event, read the panellists' insights on page (26) as Spa Inc. delves deeper into the subject matter.
And, the event also included a live demonstration by Phiane Duquet. Winner of the evening's "Top Innovative Spa Treatment" award, the multi-decorated massage therapist performed her Ancestral Wisdom Facelift Massage for attendees.
Fresh ideas
Meant to facilitate connections and honour the best that the Canadian spa industry has to offer, this year's installment of the Leading Spas of Canada Aspire event did just that, and some. It highlighted the trends impacting spa operations while helping to generate fresh ideas as the industry continues to navigate its way forward.

And the winners are…
The 2023 Aspire Spa & Wellness Soirée culminated in the presenting of this year's round of awards, which were handed out to the very best operating within the Canadian spa industry. Here is the complete list of award categories and winners:
Top 25 Spas in Canada
Elmwood Spa
Guerlain Spa at Hotel X Toronto
Hammam Spa by Céla
iwa Spa
Kananaskis Nordic Spa
Spa at Four Seasons Toronto
Spa myBlend at The Ritz-Carlton, Toronto
Ste. Anne's Spa
Ten Spa
The Elora Mill Spa
The Spa at Langdon Hall

Top Destination Spa:
Ste. Anne's Spa

Pillar of the Community Award:
Skinprovement Medi Spa & Laser Clinic

Consumer's Choice Award:
Skinprovement Medi Spa & Laser Clinic

Top Medi-Spa:
Victoria Park Medispa

Top Hydro Spa:
Thermëa by Nordik Spa-Nature

Top Hotel Spa:
Spa myBlend at the Ritz-Carlton, Toronto

Education Award:
DermaSpark Products Inc.

Top Innovative Spa Treatment:
Spa Phiane Inc. L'œuvre de beauté for its Ancestral Wisdom Facelift Massage

Honourable Mention:
Riverstone Spa

To learn more about the Leading Spas of Canada Aspire Spa & Wellness Soirée and ways to participate in next year's event, go to leadingspasofcanada.com/conference-home-page.