Sparkle & Shine Spa Awards Return To Honour Industry Luminaries
The return this year of the prestigious Canadian Spa & Wellness Awards program — and its newest category, the Pillar of the Community Award — was a sure sign that Canada's aesthetics industry is bouncing back, stronger and better than ever. Showing resiliency despite crippling shutdowns in 2020, the industry saw a record number of spas and related businesses enter the competition, making the job of deciding a winner that much harder for judges. To pick out the brightest sparklers in a field of glittering participants meant judges had to carefully sift through applications, seeking those that truly stood out. And, looking at the list of this year's winners, the judges got it right.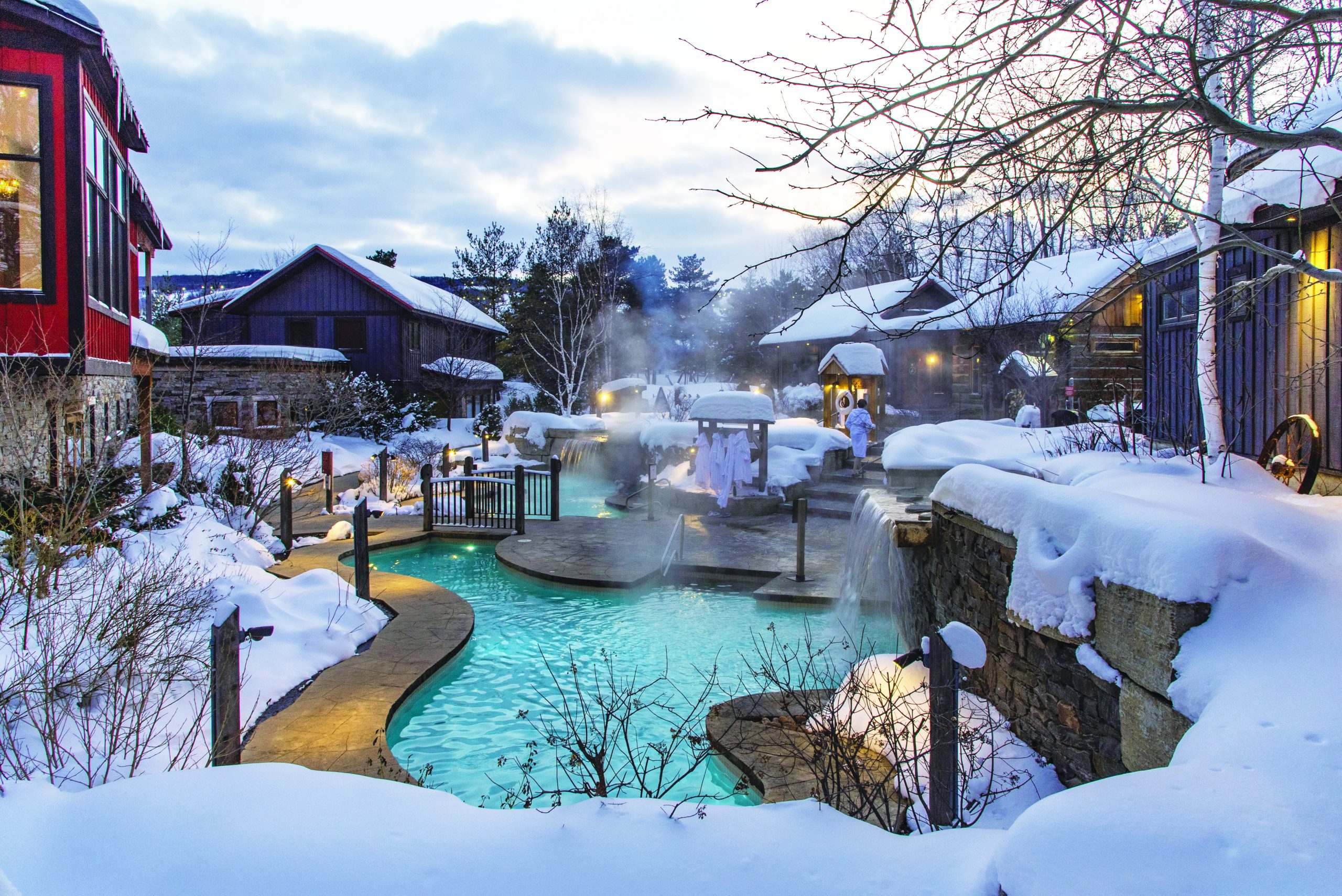 Winners that wowed!
TOP DESTINATION SPA
Ste. Anne's Spa
Grafton, ON
Embodying the essence of the perfect destination for rejuvenation and relaxation, Ste. Anne's Spa in Northumberland County evokes a dream-like feeling in its clients. Romantic gardens surround the fieldstone buildings, set in a bucolic landscape. Locally sourced foods, sumptuously appointed overnight accommodations, and a range of luxury treatments and services create the perfect trifecta for an unparalleled luxury escape.
What wowed the judges:
"Ste. Anne's Spa ticks all the boxes of what a destination spa should be: a comprehensive wellness experience. With a full range of spa treatments and wellness classes, farm-to-table cuisine, outdoor activities from hiking to snowshoeing, retail product offerings to take home, and accommodation from cottage to inn style, you never need to leave the resort."
TOP NEW SPA
Guerlain Spa at Hotel X Toronto
TORONTO, ON
Opening its doors just before the pandemic, Guerlain Spa at Hotel X Toronto offers a new kind of luxury, an urban oasis featuring bespoke treatments and customized aromas for clients to enjoy. As Canada's first Guerlain spa, it
features signature products for facials, massages, and body treatments provided by highly trained and knowledgeable staff. The spa has 10 treatment rooms with gorgeous pre- and post-stay relaxation rooms and spectacular views overlooking Lake Ontario.
What wowed the judges:
"Attentive service and personalized spa experience highlight this spa's best attributes. It utilizes the specialized Guerlain spa treatment techniques that have won raves around the world. The boutique upscale spa exemplifies customer service."
TOP MEDI-SPA
Montreal, QC
Victoria Park Medispa
There are three brand promises Victoria Park Medispa lives by: the expertise of its staff, its wide selection of treatments, and its promise of a five-star experience for all its guests. From skin rejuvenation and body contouring, to skin pigmentation and acne remedies, treatments are carefully supervised by a team of board-certified cosmetic surgeons and aesthetic dermatologists.
What wowed the judges:
"Victoria Park Medispa is known for its leading-edge skincare, muscle toning, and fat-burning treatments. It encourages its clients to be informed of the latest developments and has its own YouTube channels educating consumers on treatments and different ways to combat aging, weight issues, and other body and skincare issues."
TOP DAY SPA
Scandinave Spa Blue Mountain
The Blue Mountains, ON
www.scandinave.com/en/bluemountain
Two hours from Toronto, Scandinave Spa Blue Mountain — embraced by the tree-lined shores of Georgian Bay — evokes serenity through nature. It's a unique outdoor Scandinavian hydrotherapy circuit complemented by massage services for sublime relaxation. Guests can awaken their senses through guided forest bathing along one of only two certified trails in Canada.
What wowed the judges:
"Combines forest bathing, thermal pools, eucalyptus steam room, and saunas in its extensive indoor/outdoor complex where visitors can enjoy a full day of relaxation and therapeutic treatments. Silence is golden here."
TOP HYDRO SPA
Pacific Mist Hydropath at the
Kingfisher Oceanside Resort & Spa
Courtenay, BC
www.kingfisherspa.com/spa-hydropath
Pacific Mist Spa's Hydropath is an experience unlike any other. With massage pools, waterfalls, and a river walk to soak in, the benefits of the hydropath include remineralization, detoxification, and relaxation. The experience is complemented by an outdoor heated pool, hot tub, infrared sauna, and steam cave.
What wowed the judges: "The star attraction at Pacific Mist Spa is the innovative and restorative hydropath. Clients journey along eight areas featuring the healing power of water. Waterfalls, caves, river walk, and other water elements make this a most extraordinary
wellness experience."
tOP HOTEL SPA
CHI, The Spa at Shangri-La
VANCOUVER, BC
www.shangri-la.com/vancouver/shangrila/health-leisure/chi-the-spa
TOP HOTEL SPA
Pacific Mist Hydropath
at the Kingfisher Oceanside Resort & Spa
Courtenay, BC
www.kingfisherspa.com/spa-hydropath
Sometimes it's hard to pick a clear winner. That was the case with these two properties: CHI, The Spa at Shangri-La and Pacific Mist Spa at the Kingfisher Oceanside Resort & Spa — both exemplary spas that simply shine. As the name implies, CHI is a locus for life force and energy, a source of luxury treatments that begin with a signature foot bath and tea service for each guest. At Kingfisher Oceanside Resort & Spa, the Pacific Mist Spa & Hydropath has carved out a unique niche along the coastal landscape where guests follow a path of hydrotherapy rejuvenation.
What wowed the judges:
"Enjoy the luxury of your own spa treatment suite each with its own fireplace at CHI. It sets the stage for a truly blissful spa experience without leaving your suite. At Pacific Mist, a hydrotherapy voyage winds through Mother Nature's most precious resource — water — as you navigate sandstone caves, waterfalls, and river walks."
EDUCATION AWARD
Dermal Systems Inc. by René Serbon
Penticton, BC
EDUCATION AWARD
European Institute of Esthetics
Edmonton, AB
René Serbon, who serves on the Education Commission for the Board of the International Association for Applied Corneotherapy, is an international skin expert with education in business, aesthetics, and electrolysis. She also has post-graduate training in Laser, IPL, and the Pastiche Method of Advanced Skin Analysis. Meanwhile, the European Institute of Esthetics Training Centre in Alberta, cultivates exceptional customer service for its students. Its educators are dedicated to upgrading themselves with the latest knowledge and hands-on experiences.
What wowed the judges: "Passion and a desire to learn and discover the latest advances in skincare analysis defines René Serbon and why she is sought by spas and skincare companies around the world. The European Institute of Esthetics provides exceptional theoretical and practical training in skincare."
TOP SPA PARTNER
Beauty Through Balance by Ancient Secrets Inc.
Vancouver, BC
From the depths of the Pacific Ocean to the rainforest of the Amazon, Beauty Through Balance harvests precious ingredients in a way that protects the environment where they're found. These ingredients are hand selected for their holistic healing and skincare benefits, and many have been used for centuries for their remarkable restorative abilities. The company then transforms the raw ingredients into a form that maintains the nutritional value of the ingredient and works with other actives in the formula and with the skin's biochemistry for best results.
What wowed the judges: "Ancient Secrets isn't just about producing a skincare product line but embracing both sound environmental harvesting techniques and supporting the local Indigenous communities and other non-profit organizations."
CONSUMER'S CHOICE AWARD
Victoria Park Medispa
Montreal, QC
Victoria Park Medispa offers a wide range of treatments for skin rejuvenation, acne reduction, skin perfection, and body contouring, as well as extensive aesthetic injectable treatments performed by medical specialists. With over 20 years of services, Victoria Park Medispa is recognized as a trailblazer in medical aesthetics, being the first to use Cellfina technology, Cool Sculpting technology, LumiCleanse, Exilis Ultra, and PicoWay tattoo removal with three specialized wavelengths.
What wowed the judges: "[We think the consumers were on point with their choice.] Victoria Park has been a go-to medical spa for its commitment to employ highly trained professionals in its clinic and feature safe and sound medical spa practices to deliver effective treatments to its clients."
NEW! PILLAR OF THE COMMUNITY AWARD
Skinprovement Medi Spa & Laser Clinic
Vaughan, ON
Skinprovement Medi Spa & Laser Clinic in Vaughan, Ont., believes in giving back to the community. That's why clinic founder Ashley Perri pledged $150,000 to the newly constructed Mackenzie Vaughan Hospital. She also introduced and fully funds the "Brows for the Brave" Program, which gives free microbladed eyebrows to those suffering from cancer and other illnesses. During the initial pandemic shutdown, she began a social media fundraising campaign for the hospital and its COVID relief fund, donating $5 to everyone who posted a selfie with a skincare face mask to her site. Among many other charitable initiatives is a virtual spa fundraiser she launched for Ernestine's Women's Shelter.
What wowed the judges: "Skinprovement — despite its own financial and business struggles during the pandemic — contributed materials, labour, marketing support, and financial donations to many individuals, companies, and organizations in its community. Skinprovement embodies the best values of how a company can make a valuable contribution to the community where everyone wins."
Honourable Mentions
Le Monastère des Augustines
Quebec City, QC
Ten Spa
WINNIPEG, MB
The Beauty Barn Spa
Brantford, Ont.
Top 25 Spas In Canada
Achieve Wellness Spa
Fort McMurrary, AB
Ancient Cedars Spa
Tofino, BC
www.wickinn.com/ancient-cedars-spa
BALNEA spa +
réserve thermale
Bromont, QC
Body Blitz Spa – East
Toronto, ON
Bota Bota,
spa-sur-l'eau
Montreal, QC
CHI, The Spa at Shangri-La
Vancouver, BC
www.shangri-la.com/vancouver/shangrila/health-leisure/chi-the-spa
DOL-ÀS Spa
Fox Harbour, NS
Elmwood Spa
TORONTO, ON
Glow Medi Spa
TORONTO, ON
Guerlain Spa at Hotel X Toronto
TORONTO, ON
Hammam Spa by Céla
TORONTO, ON
iwa Spa
The Blue Mountains, ON
La Source Bains Nordiques
Rawdon, QC
Miraj Hammam Spa
TORONTO, ON
Pacific Mist Spa at the Kingfisher Oceanside Resort & Spa
Courtenay, BC
www.kingfisherspa.com/spa-hydropath
Scandinave Spa
Blue Mountain
The Blue Mountains, ON
www.scandinave.com/en/bluemountain
Spa Eastman
Eastman, QC
Spa My Blend by Clarins at the Ritz-Carlton, Toronto
TORONTO, ON
Spa William Gray
Montreal, QC
Ste. Anne's Spa
Grafton, ON
The Elora Mill Spa
Elora, ON
The Grotto Spa at Tigh-Na-Mara
Parksville, BC
www.tigh-na-mara.com/grotto-spa
The Spa at Langdon Hall
Cambridge, ON
www.langdonhall.ca/spa-services
The Spa at Nita Lake Lodge
Whistler, BC
Willow Stream Spa at the Fairmont Banff Springs
Banff, AB