Cunard revamps its ocean-going luxury spas
As one of the world's oldest cruise lines (and owner of the ill-fated Titanic), Cunard is known for classic elegance and setting the gold standard for world travel. The exclusive Cunard fleet travels throughout the world – including to the Caribbean, Asia, Dubai, South Africa, Australia and Iceland – with ship tours lasting a few days to several months; the company also recently relaunched its Alaska tours, with roundtrip voyages originating in Vancouver and Victoria, B.C., between June and September. Established as a weekly transatlantic ocean crossing service in 1840 by Canadian entrepreneur Sir Samuel Cunard, the Cunard Line was the only shipping company to continue regularly scheduled transatlantic crossings by ocean liner after the 1970s, and it was the first-ever cruise line to offer an ocean-going spa, which opened in 1981. Canyon Ranch became Cunard's wellness partner with its first branded spa in 2004 on the Queen Mary 2, and it now operates spas on more than 20 vessels with the cruise line's parent company, Carnival Corporation.
After more than a decade on the seas, it was only natural that a spa rebrand was overdue; late last year, in collaboration with Canyon Ranch, Cunard launched a new holistic spa concept, Mareel Wellness & Beauty, named after the Norse term for phosphorescence (or, translated literally, "sea fire"). Four Mareel spas will be completed by 2022 – when Cunard's newest ship sets sail.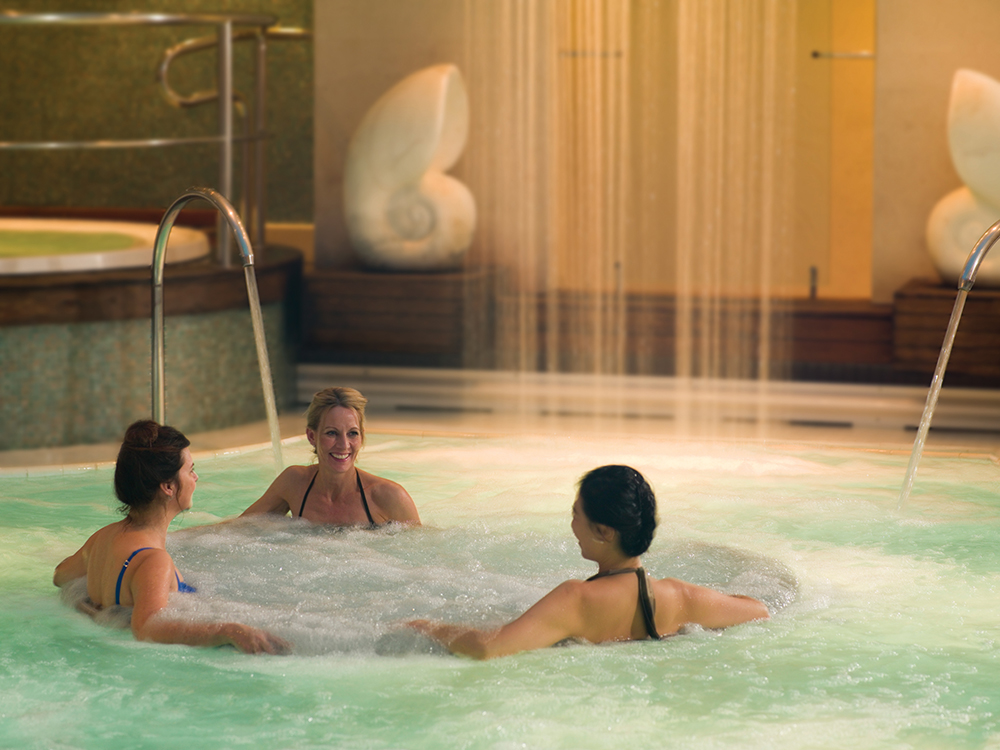 Now operating from 8 am to 8 pm daily on the freshly renovated Queen Elizabeth ocean liner (and also on the Queen Victoria ship, with the Queen Mary 2 following in late 2020), the redesigned spa features 22 treatment rooms in an expanse of 20,000 square feet that includes an aqua therapy pool, aromatic steam room, cedar-lined Finnish sauna and "sensory showers" with customized fibre-optic lighting and built-in aromatherapy.
A comprehensive menu of spa services includes acupuncture, reflexology, gait analysis, makeup lessons, men's grooming, complimentary wellness workshops (some of which are available on the stateroom TVs) and a choice of more than a dozen massage packages, incorporating Swedish, Balinese, Hawaiian, Thai and Ayurvedic techniques. To facilitate seaweed soaks, a couples spa suite includes an oversized bath for two. A meditation room is equipped with acoustic resonance loungers for full-body relaxation, while every treatment room also includes sound therapy facilities.
Mareel also offers a variety of themed spa packages. During the Alaska tours, a 2.5-hour wellness experience comprises an outdoor meditation session, guided stretching, a facial and full-body exfoliation, massage, Alaskan glacial mud wrap and seaweed bath. As its name implies, the Mareel spa is inspired by the ocean, so many seaweed-based treatments are offered using the organic, sustainably harvested Voya line (an Irish company best known for its seaweed baths). In keeping with the spa's nature-inspired theme, a new range of luxury products including Red Flower, Shankara and Environ were selected based on socially responsible production techniques using organic, wild-picked and toxin-free ingredients.
Cunard tours include stops in Quebec and Halifax, and a yearly Transatlantic Fashion Week cruise takes passengers from Southampton, England, to New York while enjoying fashion shows and seminars with some of the fashion world's well-known names. Knowing that its clientele is well travelled, Cunard is ensuring that its spa experience matches the reputation that it promises, as a repeat winner of "World's Best" awards from Travel + Leisure (among many other accolades).