Maintaining an environment of wellness
Achieving the age-old art of peace and serenity within today's spa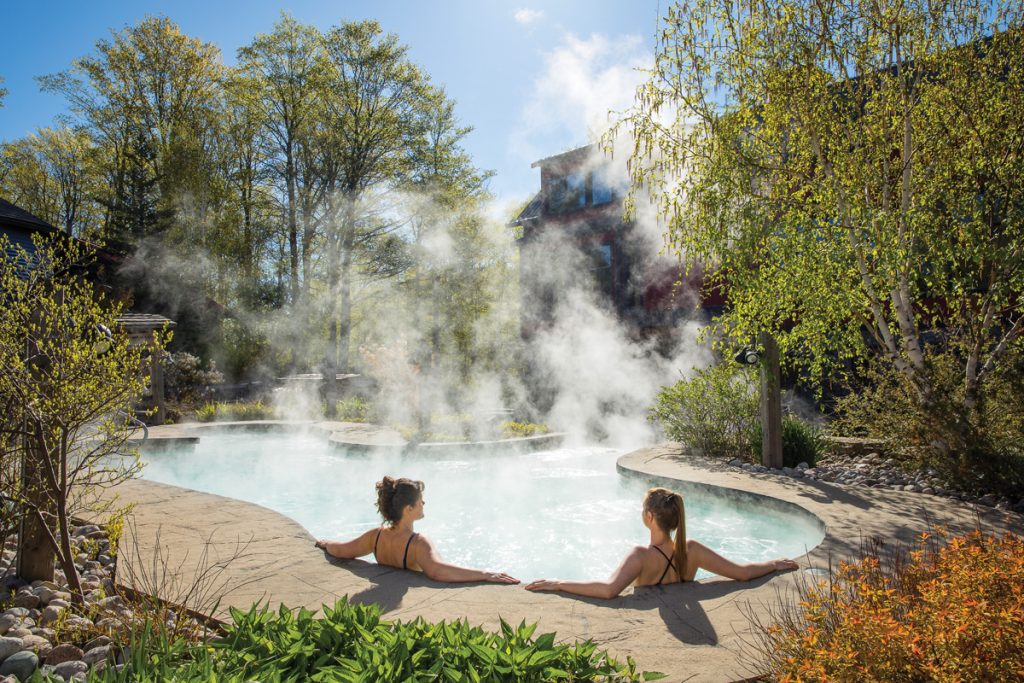 There are many spas throughout the country offering a kaleidoscope of treatments meant to support the facilitation of a range of comfort and relaxation levels. From facials and pedicures to water therapy techniques and massages, each spa's menu and suite of services is often catered to meet the relaxation needs of the visitor. However, just as important as the services and treatments that are developed and offered within a spa is the care and consideration paid to maintaining its facilities, ensuring an environment and surrounding that nurtures and best promotes health and well-being.
Ensuring a healthy experience
It's a commitment that's taken incredibly seriously by operators of the Scandinave Spa, which has locations in Mont-Tremblant, Vieux-Montréal, Whistler, and Blue Mountain in Collingwood, Ont. Each is impeccably maintained, offering guests picturesque outdoor surroundings and sets of indoor and outdoor facilities that are pristinely cared for and upkept to the highest standards. The work that's involved in achieving this is immense. And, as Mylisa Henderson, director of marketing and sales at the spa, points out, because the Scandinave Spa locations are open all year-round, combined with the experience that the spa provides, ensuring proper maintenance on their grounds is paramount.
"At Scandinave Spa Blue Mountain, exploration is a big part of the experience," she explains. "Providing guests with well-maintained indoor and outdoor facilities means that throughout the year, in any weather conditions, there are enough spaces to relax, rejuvenate, and embrace our natural surroundings. We prioritize a regular schedule for maintenance and refurbishment to ensure our facilities are safe, but also to demonstrate to our guests that we are committed to providing a quality product throughout the entire year. Guests have peace of mind knowing they can trust their surroundings and the integrity of our spa experience."
Maintenance flow
Featuring indoor massage facilities and spaciously designed changerooms, the spa also boasts a eucalyptus steam bath, Finnish sauna, infrared sauna, and beautiful outdoor thermal baths. And, for the peak of mindfulness and relaxation, there are also solariums, as well as hammocks, Muskoka chairs, and loungers situated around roaring outdoor fireplaces. Ensuring that each element of the Scandinave Blue Mountain experience meets the expectations of visitors requires an ongoing cleaning and sanitization schedule, leaf and snow removal equipment, and personnel. And, when something out of the ordinary might occur, Henderson says that the spa is able to count on the dedicated services of its long-standing local partners who are on call to address anything outside of routine maintenance.
Upholding peace of mind
Henderson goes on to explain that because ensuring the guest experience — which includes an element of escape and peace of mind, surrounded by the sights and sounds of nature — is the No. 1 priority for the staff at Scandinave Blue Mountain, there's an etiquette attached to the maintenance of the grounds and facility. An etiquette meant to uphold the experience for guests while providing them with the supreme cleanliness and groomed aesthetics with each and every visit.
"One of our ongoing challenges we experience when maintaining our facilities is working on and completing maintenance, upgrades, and new projects without interrupting our guests' experience," she says. "So, many initiatives have to happen after-hours. And, as a result, many also take longer to complete because we value the integrity of the experience for all guests."
Quality guarantee
In fact, each Scandinave Spa location throughout the country provides a quality guarantee to its guests centred around a commitment to providing a safe and healthy spa experience. In order to support this commitment, Henderson says the spa at Blue Mountain is constantly investing with an aim to consistently modernize, refresh, and improve the overall quality of its daily operations and to ensure the guest experience remains the spa's top priority and area of focus.
One example of the ongoing upgrades and after-hours projects that Henderson refers to was just completed at Blue Mountain — the installation of a new, more energy-efficient mechanical system for the outdoor thermal baths, which includes state-of-the-art heat trace and snow melt systems — and will surely be appreciated by the spa's throngs of visitors.
More to come
Henderson says that Scandinave Spa Blue Mountain is actively exploring further upgrades to its grounds, facilities, and overall guest experience that it offers, suggesting that the spa's maintenance schedule is set to be fully booked for some time to come.
"We are planning more outdoor spaces for guests to relax and discover in 2023 and beyond. As well, over the next two years, all six outdoor pools will be resurfaced and refurbished. In addition, over the next three years, interior spaces in our main reception building, as well as the massage pavilion, will be updated and refreshed."