In The Pursuit Of Quality
Raising the Bar While Inspiring Staff
Quality matters. It is especially important in the spa industry where a lack of quality in services and operations can compromise safety, hygiene, and staff/client retention.
I visit many spas throughout the year both in Canada and around the world, and it's always refreshing to experience spas that profess and demonstrate quality. It makes me proud to be involved in and write about an industry committed to service excellence.
Quality Control Is a "Ritzy" Business
I recently visited the Spa myBlend (formerly, Spa My Blend by Clarins) at the Ritz-Carlton, Toronto. It was launching its newly reformulated myBlend product line and a curated collection of personalized services designed for clients' individual needs.
The spa introduced six new face and body treatments using the new myBlend CellSynergy device, which focuses on a person's areas of concern including tone, fine lines, wrinkles, hydration, and firmness. The device promotes skin regeneration by combining cryotherapy, ultrasound, and microcurrent energies.
A team from France spent weeks training the Toronto spa staff in the techniques and the technology, as well as evaluating client needs.
Maggee Byrd, director of spa, explains, "Providing memorable experiences is our focus, and you can really only achieve that with a true focus on quality."
Byrd defines quality as, "Providing the finest personal service and facilities for our guests. We achieve these results with our incredible Ritz-Carlton ladies and gentlemen, and our continuous focus on our five-star standards and protocols." All guests are asked to complete a survey used to evaluate what went right and where the spa might improve the quality level. "We maintain very high standards, monitor and audit those standards, and always train and retrain. Consistency is critically important, and we strive for the highest level of service every day."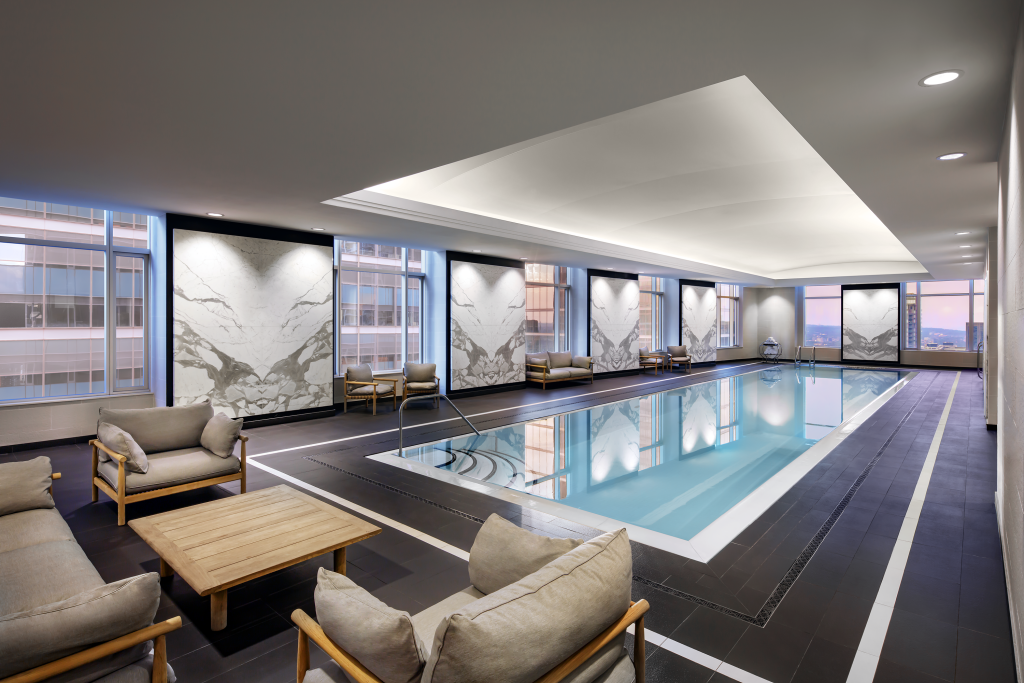 Motivating Staff to Ensure Quality
Maintaining quality is no easy task for spa owners and is essential for a successful spa operation. Staff need to buy into it and iwa Spa, an innovative spa in Blue Mountain Village, Ontario, has developed different programs for staff to keep them motivated and guests satisfied.
"Our Why to Inspire Wellness always extends not just to our guests but to our team and community," says Jenevieve Dennis, iwa spa director. "Each team member understands, 'KARMA,' which stands for Kindness, Attitude, Respect, Manners, and Accountability. These are the foundations that make the day-to-day flow effortlessly."
Iwa Spa uses the KARMA culture for a peer-to-peer recognition system called "Gotcha," where team members recognize one anotherfor KARMA-aligned behaviours. Team members can earn prizes, but, more importantly, it strengthens communication and team building. KARMA culture is also used in twice-yearly performance reviews where there is a genuine two-way dialogue in which members can talk about their career goals.
Setting National Quality Standards
Caroline Bédard, project manager for L'association Québécoise des Spas representing more than 60 spa establishments in Québec, created a SPA Certification of Excellence in 2018 aimed at recognizing the compliance of its members with the requirements of its quality program.
"This certification is only granted to establishments that meet the highest standards in terms of professionalism, quality of care, water quality, and hygiene," says Bédard. In addition, to be subjected to mystery inspections, each certified spa is governed by rigorous quality standards, defined according to the highest industry standards."
On a national level, Kathryn Gallagher, chair of the board of Leading Spas of Canada, says the organization is very proud of developing the first and only Quality Assurance (QA) program in Canada which was launched in 2009. Knowing how important it was to the industry and the spa-going public it was created by health inspectors and experienced spa industry owners and directors to verify the quality and integrity of the services and practices spas provide.
"This is achieved by an evaluation process that includes interviews, documentation on standards and processes and more," says Gallagher. "We not only feel that creating this program was critical in an industry that is unregulated, but it gives confidence to clients, employees, government agencies and the general public that these spas are meeting national standards and consumers are getting a safe and quality experience."
Employees Impact Quality
Spas must look at ways to retain staff with increased training and employee incentives which will have a positive effect on the quality of the spa operation, the service levels employees provide guests and profitability. Keeping employees is critical for the spa industry to be successful in the future. In the most recent 2021 U.S. Spa Industry Study compiled by ISPA with PwC (PricewaterhouseCoopers), it indicated that of spa professionals responding to the study don't have enough staff to 68% of service guest requests, which means lost revenue for spas. Even though this is a U.S. study, Canadian spas have seen similar patterns.