Are Spas Surviving the Pandemic?
Financial & Mental Fortitude Put to the Test
"Hopefully this pandemic will be over soon and we can reopen," was a common refrain many Canadian spa owners echoed back in March 2020. After the first lockdown, it was thought that life and business would gradually return to normal. Fast forward nine months later to another surge in COVID-19 cases, positivity rates, hospitalizations and deaths; the lockdowns continued through the winter holidays, and into the New Year. As a result, more restrictions have been imposed in various regions across Canada.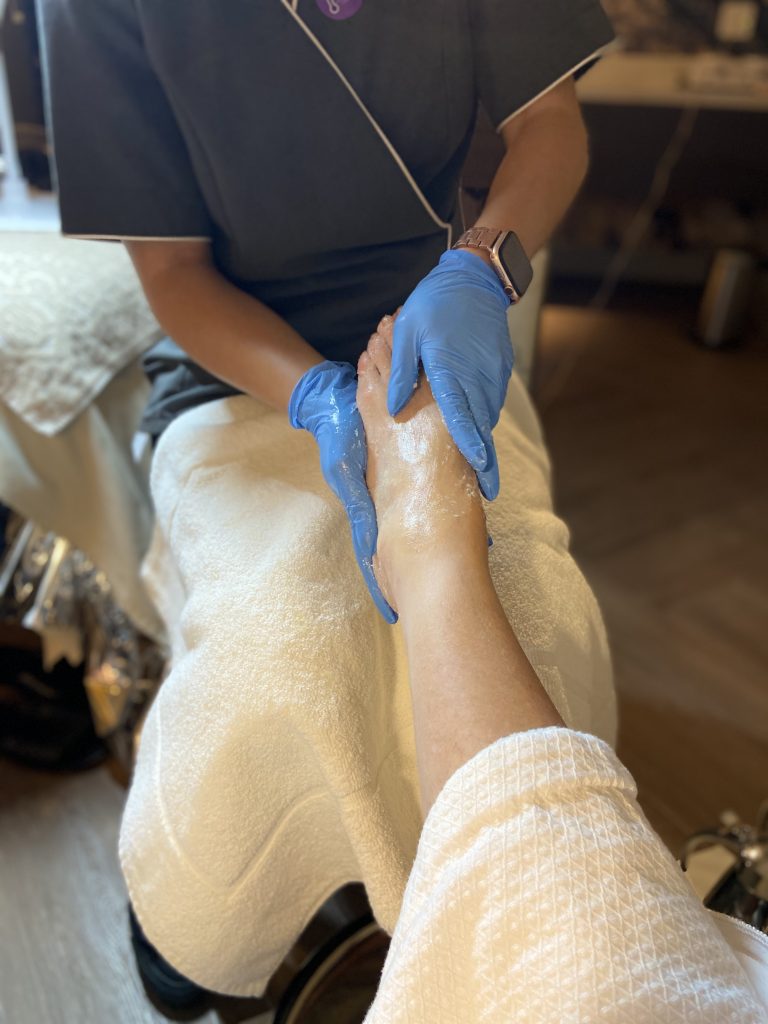 The spike in cases is being blamed on people suffering COVID fatigue, community spread, large private gatherings, lifting of restrictions and people spending more time indoors, all making it easier for the virus to spread. Pre-pandemic spa business and marketing plans have been tossed in the trash and are being revised weekly as government and public health departments apply and change restrictions. Spa business COVID tool kits require market savvy, creativity, knowing how and when to pivot, an understanding landlord, and hopefully a rainy day fund.
Throughout 2020, I contacted spas across Canada and visited spas in Ontario and Quebec. They implemented some impressive COVID safety and sanitation protocols, while still providing a welcoming spa environment. (Featured in Summer 2020 Spa Inc.)
For this issue, spa owners and therapists shared how they were coping after months of dealing with COVID-19: How has the business changed? Has their customer base changed? What challenges are ahead?
The need for spa statistics
How has COVID-19 affected the spa industry? What percentage of Canadian spas have permanently closed due to the pandemic? Unfortunately, there are no current statistics that can answer these questions.
The latest statistics on Canada's spa industry were published in a report by the Canadian Tourism Commission (now Destination Canada) in 2006! At that time, it was estimated there were 2,300 spas in Canada, although many have estimated that figure is closer to 3,000 spas in recent years.
The U.S.-based International Spa Association (ISPA) commissions a detailed annual study of the U.S. spa industry by PricewaterhouseCoopers (PwC). According to its 2019 report (2020 report yet to be released), there were 22,160 spas in the U.S. in 2018. It's a shame we don't have detailed statistics like that in Canada. ISPA also commissioned surveys on the impact of COVID including consumer attitudes towards spas, anticipated spa spending and how people felt about visiting a spa.
Elena Zinchenko, president of the Leading Spas of Canada and spa director at Ten Spa in Winnipeg, said in a telephone interview that a Canadian spa survey is a priority in 2021. Zinchenko notes there hasn't been the budget or sponsor support for a research study in the past but she's hopeful funds can be found in 2021.
Statistics matter when lobbying government on policy and regulatory changes, as well as showing the spa industry's impact on the Canadian economy. The Confederation of Independent Business (CFIB), Conference Board of Canada, Statistics Canada and Retail Council of Canada could not break down specifically how many spas have permanently closed, since spa types may fall under various business classifications from Personal and Professional Services to Salons and Health Services.
In a November press release, CFIB President Dan Kelly estimated 160,000 businesses across Canada may permanently close due to COVID-19, with the potential to rise to 225,000. Spas would be included in this figure, but how many is anyone's guess.
More spas may be a casualty when Toronto, which is home to the highest concentration of spas, went into a lockdown November 23rd for 28 days, and again in January 2021. B.C., Manitoba and Alberta are also seeing a surge in cases. The timing couldn't have been worse for spas. The period leading up to the holidays is usually one of the busiest and most profitable. The financial ramifications of continued lockdowns could be the nail in the coffin for some spas.
Massage therapists – missing in action?
Many spa owners are finding it challenging getting their therapists to return to work and if they do, it may be for fewer hours. One reason is needing to be home to take care of children or other vulnerable family members. Others prefer to receive federal support programs like CERB, which has morphed into the Canada Recovery Benefit; and some therapists state safety concerns for not returning.
"I value the life of my mother and family, and do not wish to be a vector of illness, nor do I wish to risk my own life or long-term health under the circumstances, not until the pandemic is being managed and there are effective treatment options," said Karina Ackert, an Ottawa-based RMT, who has practiced massage therapy for 27 years and operated a multi-disciplinary clinic in the past. At the time the pandemic broke, she was managing a Cayman Islands resort spa before returning to Canada in the summer after the resort had to shut down due to COVID and travel bans.
Ackert cites the high number of asymptomatic cases, lack of contact tracing in Canada and not feeling safe giving massages as reasons she decided to revert to "Inactive" status as a massage therapist with the College of Massage Therapists of Ontario (CMTO). Since returning to Canada, she has not given or received a massage. In September, she enrolled in a Bachelor of Hospitality and Tourism Management program at Algonquin College to pursue a career in tourism that would utilize her past management and spa experience.
The CMTO's registration renewal for therapists (MTs/RMTs) for 2020 was underway at the time of writing, therefore figures were not yet available for this year. At the end of 2019, according to Angie Brennand, CMTO's directorof policy and communications, there were 14,964 registered therapists, of which, 994 therapists were "Inactive." The majority (5,878) worked in a clinical group setting.
It's anticipated there will be a significant increase in massage therapists changing their status to "Inactive," or even choosing to leave the profession altogether. Already there is a shortage of qualified therapists, and the pandemic has only exacerbated the problem.
Small operation, bigger challenges
Solo operations or smaller spas are especially vulnerable in surviving the pandemic. Kristina Smith, who began offering esthetic services through her Ottawa-based Simple Aura Spa in the summer of 2018, is proud of the fact no positive COVID cases have been traced back to her spa. Smith doesn't have the volume nor influence that larger spas and salons possess in securing high-level disinfectants like Pre-empt 70-90 percent alcohol content. Nail files and other esthetic-related items are also in high demand and short supply, she says. Smith feels like she's on a rollercoaster as client revenues rise and fall suddenly depending on what restriction level the city is in and what services she's allowed to offer.
Hospitality woes
Jully Wahono, owner of Taman Sari Royal Heritage Spa at the Hilton Whistler Resort & Spa in B.C., has operated the spa for 17 years. It's her passion and life. Nothing could have prepared her for this past year. Wahono has had to cut back drastically on what services she can offer guests. Billing itself as the only authentic Javanese spa in North America, the boutique spa has five treatment rooms and one couples room. The hot tub and sauna are closed and the spa can only offer massage services.
Whistler, being a very popular destination with domestic and international travellers, has felt the pandemic pain. Drops in guest hotel bookings resulted in a total shift on how they market. Typically, in the winter 70 percent of the hotel's guests are from the U.S. and international destinations. This winter, guests will be 100% Canadian, with the majority coming from B.C., and in particular, the Vancouver area. Through this pandemic, Wahono has had to discount prices 25-40 percent on massage services. When asked if she will survive, Wahono sighed and said it is "50/50 chance of survival," and added, "Our focus is week by week, month by month."
Spa openings & closings
Mokara Spa director Julia Chang can relate to Wahono. A spa veteran running businesses in Canada and the U.S., Chang has seen her share of challenges, but nothing like this. Taking on her new role in early 2020, she barely got her feet wet before the pandemic hit. The spa, located in the historic Omni King Edward Hotel, rebranded as Mokara's first spa in Canada when it reopened in September.
Marketing a new brand while opening a new luxury spa is daunting enough, but add a pandemic to the mix and you have a perfect storm. The spa had to close in November, less than two months after opening. The spa's clientele would normally be 40 percent hotel guests and 60 percent locals. Chang is frustrated but recognizes this is "our new normal." Chang adds, "The spa industry is going to be held to a higher standard." She is focusing on marketing to locals, while promoting more online retail sales.
Elmwood Spa, one of Toronto's oldest and largest day spas, closed down its five-storey spa in March and remained closed through the fall, but its sister boutique Elmspa did reopen in the summer. Elmwood Spa is still marketing heavily to its customer base to purchase gift cards, promoting Elmspa and online retail products.
Customer & staff reluctance
At one time, Quebec led the country in positive COVID cases, which created fear among potential clients. Until last August, Spa William Gray, a boutique spa in Old Montreal, found it difficult to attract customers, with many saying they were afraid to have spa treatments due to safety concerns, according to spa director Audrey Marleau. In a June Snapshot survey conducted by ISPA, this nervousness about catching COVID was a concern for many, with only 28 percent saying they would not be nervous visiting a spa when it reopened.
Marleau says attitudes began to change as people were educated on safety and sanitation protocols, but there was still a major obstacle left – getting her team to return, as many were freelance therapists and estheticians, and some preferred to stay on government relief programs. The other issue: Staff who showed any symptoms (sore throat, cold, etc.) as per safety protocols were required to stay home, which left last-minute scheduling challenges.
Investing in the future
Carrie Rowan, owner of Zenbar Healing Studio which opened in Oakville, Ont., in 2013, related in an interview there was the "fear of the unknown," and a "very scary time" when the pandemic first hit. Despite zero revenues, a $25,000 monthly rent bill still had to be paid, along with numerous other expenses. Knowing it was imperative for peace of mind for her clients and staff, Rowan hired two full-time cleaners to keep the spa spotless and sanitized. Her past entrepreneurial experience came in handy and rather than retreating, she looked at ways to improve and move forward.
Rowan embraced technology and new, innovative treatments. She reconfigured her spa space and purchased a $100,000 state-of-the-art facial machine, among other improvements. Medical facials are her biggest revenue-generating service, although with COVID restrictions they were not allowed to offer facials for months. Rowan attributes hiring "the best people" as a big part of her success, which she says translates into 90 percent repeat clientele.
Virtual reality becomes a treatment
Iwa Spa, located in the Blue Mountain Resort Village just outside Collingwood, Ont., addressed client safety concerns with technology. Spa Director Jenevieve Dennis listened to some clients express reluctance having a therapist touch them due to COVID concerns, but they still craved a relaxation experience. Iwa Spa came up with a new treatment that satisfies the no-touch therapy client, as well as for clients who may want to augment their spa experience. The solution is the Healium Relaxation VR Treatment, a session lasting anywhere from five to 35 minutes. VR has been shown to stimulate the brain to produce melatonin, while lowering levels of cortisol, which helps people manage stress and sleep better. The VR treatment is offered as a stand-alone or can be used as an upgrade to another treatment.
Keeping positive
Ten Spa's Elena Zinchenko indicated business has been very busy despite COVID restrictions keeping operations at 50 percent occupancy. Although they are based in a hotel, 90 percent of their business is from locals. Zinchenko has been adamant about keeping her staff safe and providing them with the necessary time off so they don't burn out. Like other spas, Zinchenko made improvements, heightened the sanitation protocols and buys only the best products for cleaning and disinfecting.
Wearing her Leading Spas of Canada president hat, Zinchenko feels if there is one positive in the COVID pandemic, it's that "all the spas and salons updated and upgraded their operations."
That's a good thing. Showcasing staff professionalism and commitment to a safe and clean spa environment will attract new customers and keep clients coming back time and again.
This pandemic has exposed a real need for self-care and mind/body wellness. The spa and wellness industry is in an ideal position to service those needs today and far into the future.
Let the new era of wellness begin.
Spa Survival Resources
Federal Relief Programs: Keep up to date on the federal government relief programs for businesses. There are also many business loan programs available.
canada.ca/en/services/business/maintaining-your-business.html
Canada Emergency Rent Subsidy (CERS)
Canada Emergency Business Account (CEBA)
Canada Emergency Wage Subsidy (CEWS)
Business Credit Availability Program (BCAP)
Canada United Small Business Relief Fund
Canada Recovery Benefits (CRB)
Canadian Federation of Business (CFIB)
cfib-fcei.ca/en
Excellent resource for tips, information for small businesses
Canadian Business Resiliency Centre (CBRC)
canadianbusinessresiliencenetwork.ca
COVID Tool kit for businesses, COVID signage templates, etc.
Top Tips
Simplify your spa menu and highlight the most profitable treatments
Keep website updated to changing provincial and public health restrictions
Highlight guest safety and sanitation protocols in concise, minimal text
Feature timely client testimonials who have had services during the pandemic
Maintain regular contact with customers through email, phone calls and social media – use the opportunity to educate them on the importance of self-care, mental/physical wellness, the spa's safety/sanitation protocols
Keep a timely social media presence – be upbeat but honest and post any changes to provincial and public health department restrictions
Network with other spas: Although you are competitors, build a local spa community – find out what measures they are taking to keep customers safe. All spas benefit by working together; consider co-op marketing opportunities
If a solo practitioner, contact other spas/practitioners to buy PPE and other supplies together to lower your per unit cost
Focus more marketing efforts on retail online sales
Create a podcast – self-care tips, staff profiles and their modalities, treatments
Use the time to make facility improvements (depending on funds available), streamline processes, staff training (virtual if available) on new procedures/modalities, update and fine-tune database and software programs
If necessary, upgrade air filtration and HVAC system
Revise the business plan as conditions/restrictions change