A Luxury Spa Getaway in Switzerland
Housebound for months during the global pandemic, many people are longing for an epic escape. For some, it has exacerbated an already strong case of wanderlust with many planning to launch their next adventure as soon as travel restrictions permit. In addition, the global health crisis has driven home the critical importance of wellness.
Combine the desire for the ultimate vacation with the need for self-care and wellness, and you've got a world-class, luxury spa getaway in Switzerland at the historic Badrutt's Palace Hotel which opened in July. Badrutt's Palace dates back to the late 1800s, and has seen its share of ups and downs.
When you arrive at this magical destination, you will be transported far away from the stress of the current reality. There has never been a time where an escape like this, built in the heart of the enchanted Swiss Alps and steeped in tradition, is more necessary.
Badrutt's Palace is located in the charming village of St. Moritz, a renowned ski spot that has welcomed a long list of celebrities, from Charlie Chaplin to John Lennon and George Clooney. (Don't miss the Hitchcock Suite, where Alfred Hitchcock liked to stay.)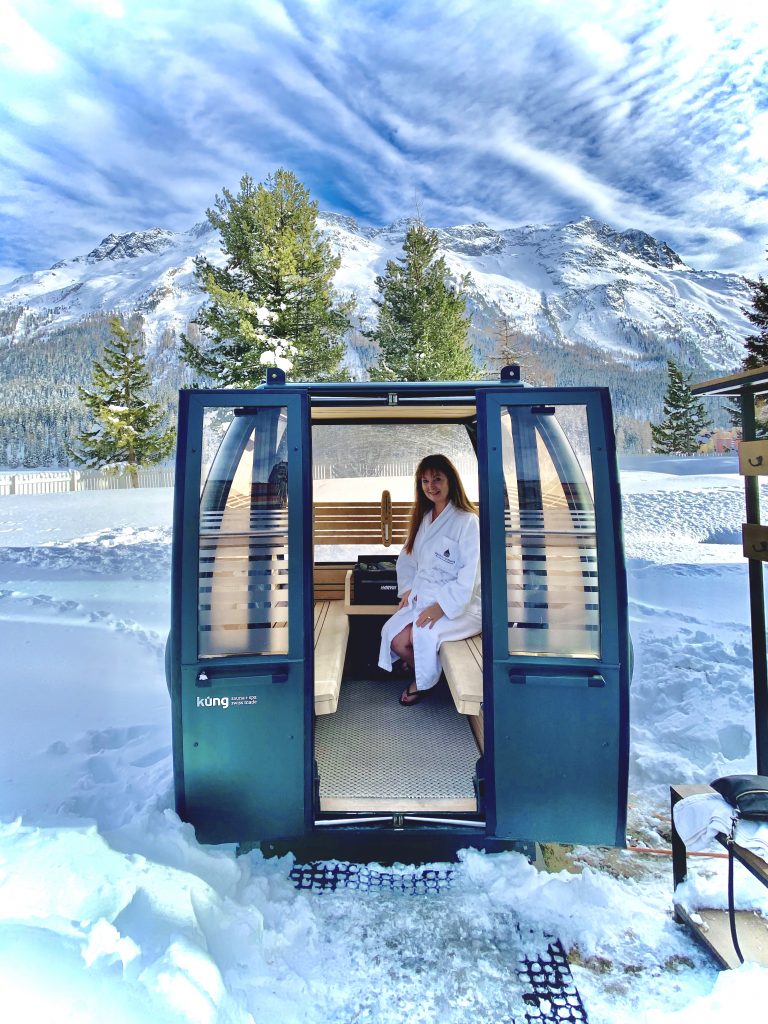 The top-of-the-line service at the hotel frees you from obligation and worry, as the staff handles everything you need. Suites include your own personal butler (including one suite with its own marble entrance hall and library). Enjoy complimentary transportation around town in a Rolls Royce. Marble bathrooms have rain showers and cozy bathrobes. Minibars feature complimentary alcoholic and non-alcoholic beverages and the wine cellar boasts more than 30,000 bottles.
It's all about the little details that make a big impact at Badrutt's Palace. For example, at night, the staff puts a hot water bottle under your sheets to warm the bed.
Relax (and drop those cortisol levels) at the incredible pool and spa area, accessible via a tunnel from the main building. The heated pool is surrounded by glass, with full views of the mountains – especially romantic and cozy when there's snow falling outside. Guests also love the granite diving rock. Yes, a special rock just for diving.
The spa is my favourite highlight here, and the best way to make the most of it is to book your private spa suite, complete with a Jacuzzi tub, steam bath and cozy furniture. The Suite Iris even has its own personal garden for the ultimate peaceful pampering experience, while also minimizing interactions with other guests. (During COVID-19, this is especially valuable for travellers.) The spa offers an extensive treatment list, from traditional deep tissue massages to more unique offerings, such as a cleanse using detoxifying alpine herbs. Here, you can relax your mind, reduce your stress and boost your health, all in a serene and scenic Swiss wonderland.
The spa area also includes an indoor infinity pool, a steam room, ice room, mist room, salt steam room and more, all of which can be combined to boost your health and create a memorable, luxurious, healthy European adventure.
Another one-of-a-kind offering at the Badrutt's Palace is its outdoor sauna. Made out of an old gondola, it's an ideal after-skiing treat. Two old gondolas, with their existing wooden benches plus hot coals, have been converted into perhaps the world's quirkiest saunas.
Round out your healthy vacation with nutritious food, like an inventive dinner at the hotel's Michelin-starred restaurant, Igniv. Then, each afternoon, toast your health and happiness with traditional tea in Le Grand Hall. Your mind and body will thank you for this trip.
If You Go
Visit Badrutt's Palace during June to September for the summer season and November through March for the busy winter season.
Badrutt's Palace has taken special measures to keep guests safe during the COVID-19 pandemic. Some of the efforts, in addition to following the Swiss Federal Office of Public Health's rules and regulations, include limiting the number of guests allowed in elevators; giving guests their own box of personal protective equipment; no added cost for in-room dining; outdoor dining options and plenty of space between tables at the on-site restaurants; an on-hand doctor and medical clinic; and many more.