CND Vinylux weekly nail polish
Locket Love
By: Jodee Cave
I am a nail polish fanatic! If you're like me and have a treasure chest full of polishes, you need to add this jewel to your collection. I tested CND's Vinylux weekly nail polish in the shade Locket Love. It has easily become my favorite polish in my collection. The shimmering gold colour is perfect for the holidays and is keeping me in a festive mood!
This polish is great for a gal on the go; it goes on smooth and with a simple application of the top coat and dries quickly so you can get on with your day while looking fabulous! Vinylux definitely delivers on the promise of being a weekly polish. I was able to go through my week without having to reapply. My nails looked great the entire week, with a few days extra I might add. If you want to keep your nails looking fresh without the hassle of having to re-paint them every other day, Vinylux is a must have!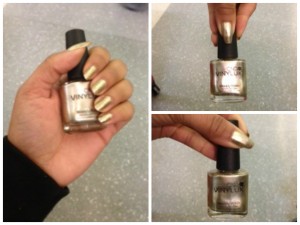 Midnight Swim

By: Lindsay Grummett
My nail polish collection is like my wardrobe: dark. So when I was given the chance to try CND's Vinylux polish, I went for Midnight Swim, a beautiful blue-black shade (heavier on the blue) with a lot of shimmer.
CND's Vinylux polishes are said to give you a week of chip-free wear without a base coat, but I was pretty skeptical with that claim. You don't need a lamp to dry this polish either because exposure to natural light secures it for long-lasting wear. Uh-huh, sure.
Turns out, they weren't lying. I applied two coats of the polish to my toes followed by Vinylux Weekly Top Coat. The polish was extremely easy to apply, went on smooth and dried in a relatively short time. I've had it on my toes for over 3 weeks now (I know, I'm a heathen!) and there's only minimal chipping on the edges. I'm extremely impressed with this polish. It's a few dollars more than your typical drugstore brand polish, but in my opinion it's worth it.