The Canadian Spa Community Visits Winnipeg
On June 12-14, Spa Inc. among other professionals from across Canada's spa industry attended the Leading Spas of Canada ASPIRE Spa & Wellness Conference in Winnipeg, MB. This year's conference was jam-packed with learning sessions from industry experts, networking opportunities, and celebrations.
Part of this conference was the Gala Awards Event in which the winners of our 2021 Canadian Spa & Wellness Awards were presented with their awards. We were so excited to be back in person and to be able to come together to celebrate, especially after pushing these awards from 2020 to 2021.
To learn more about our 2021 winners, view the below:
Thank you to everyone who participated, and congratulations to all of our 2021 winners; we cannot express how grateful we are for your participation in these awards and we cannot wait to see what's in store for you in 2022. We would also like to thank all of our Canadian Spa & Wellness Award sponsors – DermaSpark Products Inc., Ella Baché, PROBEAUTY Group, Aquafolia, Vitelle Labs and Ste. Anne's Skin Nourishment and our panel of esteemed judges. Without all of you, these awards wouldn't be possible.
To learn more visit: CanadianSpaAwards.ca
Our 2022 awards program will open at the end of August, stay tuned!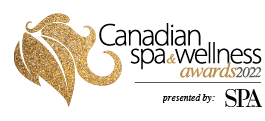 Moments from the Event