High-tech, next-generation beauty treatments
It may read like a science fiction novel, but it's real: Around the world, spas are taking quantum leaps in delivering the best health and wellness treatments that science can offer, leveraging genetic and stem cell manipulation, advanced equipment and the power of light and nature, harnessed through research. This process of scientific discovery is pushing the boundaries of Canada's beauty industry.
According to Simmons, a national research firm in the U.S., 1.68 million Americans spent $500 or more on skincare products in only three months. It's no wonder that pharmaceutical and cosmetic manufacturers want to get in on the action by building their bench strength with investments into research and development in the quest to find the next best anti-aging products.
Eight game-changing discoveries paving the way for the future of skincare
Our understanding of skin biology, genetics, mitochondria and microbiomes, boosted by bioengineering, artificial intelligence and nanotechnology, has given rise to an entirely new approach to beauty and skincare treatments.
Could genetic on-off switches be the holy grail of smoother, younger skin?
What if we could reverse wrinkles? In 2018, the answer became apparent to researchers at the University of Alabama at Birmingham, who found a genetic mutation that led to mitochondrial dysfunction where cells are impaired in mice; those with the mutated gene developed wrinkled skin and visible hair loss in a matter of weeks. When proper cell function was restored by switching off the mutated gene, smooth skin and thick fur returned. More studies, including human trials, are needed to show the same results, so until that time, the holy grail of smoother, younger skin remains elusive.
Nobel laureate discovers a better way to deliver active ingredients
After decades of research in molecular engineering, Nobel laureate Sir Fraser Stoddart found a new way to improve the potency of active ingredients in beauty creams. It led to the launch of his Noble Panacea line of skincare products unveiled last November. These products rely on Organic Molecular Vessels (OMVs), a powerful time release technology that allows active ingredients to remain potent and penetrate into the skin better than regular creams. Active ingredients like vitamin C and retinol can degrade with exposure to light, oxygen and water, but the OMV protects the ingredient, keeping it stable longer and improving its effectiveness.
The secrets of starfish extract
The starfish is an amazing creature that has a unique capacity to regenerate itself. Rather than blood, these critters circulate coelomic fluid through canals in their bodies; scientists believe this fluid holds the key to cell regeneration. Clinical studies have shown it promotes collagen production with long-lasting anti-wrinkle benefits, along with a strong improvement in skin firmness, elasticity and moisture retention. The studies compared this extract with retinol and it performed equally well, if not better, without having any of the negative side effects. The creatures are milked for the liquid and are then returned unharmed to their natural habitat, and the liquid is then incorporated into products like those offered by Trillium Skincare.
Organ transplant drug may hold the answer to younger skin
Dermatologists know that stress, DNA damage and metabolic dysfunction lead to photo-damage and dermal atrophy in the skin, basically turning skin into tissue paper and impairing its function as an important protective barrier against environmental toxins. Last year, scientists in the U.S. were able to show that topical rapamycin, an FDA-approved drug typically used in organ transplants, can reduce aging in human skin. And, while the results show great potential, it still may be years before Health Canada approves its use outside of organ transplants.
Boosting vitamin C absorption
French scientists recently released the results of a study which found that infusing vitamin C with squalenic acid, a natural oily substance found in sebum, enabled the vitamin to penetrate deep into the skin and better deliver its powerful antioxidant benefits. At the same time, the infused serum thickened the epidermis and boosted collagen production, resulting in healthier, more youthful skin. The cream was applied topically to patients and was shown to be significantly more effective in reversing signs of damage, promoting the formation of collagen and removing free radicals to promote healing.
Research supports plant stem cell extracts
There's a lot to be said for grape, lilac and Swiss apple extracts, which studies have shown to be rich sources of phyto stem cells. Scientists have found that cell regeneration in aging skin can be stimulated with these extracts. Probably the most widely and longest studied botanical is the grape seed, which has powerful anti-inflammatory properties that can prevent skin aging, fight oxygen free radicals and protect against UV damage. Other studies are probing the effect that verbascoside, a molecular compound in lilac, has on wound healing, as well as its anti-inflammatory effects; it may be more effective than hydrocortisone and triamcinolone in inhibiting inflammation. Studies into Swiss apple extract have shown that a tiny concentration can trigger human stem cell growth in skin.
Hyperbaric oxygen chambers may become the next great spa menu item
In late 2020, researchers in Israel discovered that hyperbaric oxygen therapy can reverse the tell-tale biological signs of aging. As you age, the tips on either end of your DNA (telomeres) start to shorten and aging cells, known as scenescent cells, begin to outnumber younger ones. Using a specific protocol of hyperbaric oxygen therapy (HBOT), telomere length was significantly increased and senescent cells were reduced in a population of healthy aging subjects. According to Health Canada, hyperbaric oxygen therapy is a well-established medical treatment where patients spend time in a pressure chamber with pure oxygen, but until now it has not been approved as an anti-aging therapy. No doubt, research on aging will continue to make its way into the beauty industry, so it may be a matter of time before hyperbaric oxygen therapy appears on your local spa menu.
New course offers insights on the science of happiness and human touch
In recent years, a wave of studies has documented some incredible emotional and physical health benefits that come with touch. This research points to touch as fundamental to human communication, bonding and health. Researchers at the University of California, Berkeley's Greater Good Science Center conducted experiments that prove emotions like compassion, gratitude, anger, love and fear can be communicated in the way we touch others. This research inspired Dermalogica's new online Meaningful Connections Certification course developed in partnership with the Center.
Launched in November, the course equips industry professionals with interpersonal strategies to strengthen their emotional intelligence and improve client communications, covering activated listening, body language, practicing positivity, breathing exercises, vagus nerve activation and gratitude.
Tabby Zamani, head of global education at Dermalogica, explains, "As the leader in skincare education, one of our core values is human touch. It felt natural for us to fill an educational gap in the industry by creating a course that will empower service professionals to navigate emotional, challenging conversations during these unprecedented times. The world has shifted: Mental health has taken on more significance than ever before, and the power of human touch is more precious than ever."
State-of-the-art technology for forward-thinking spas
Science has opened up an entire new world of technologies for spas and medi-spas looking to deliver unprecedented results for their clients.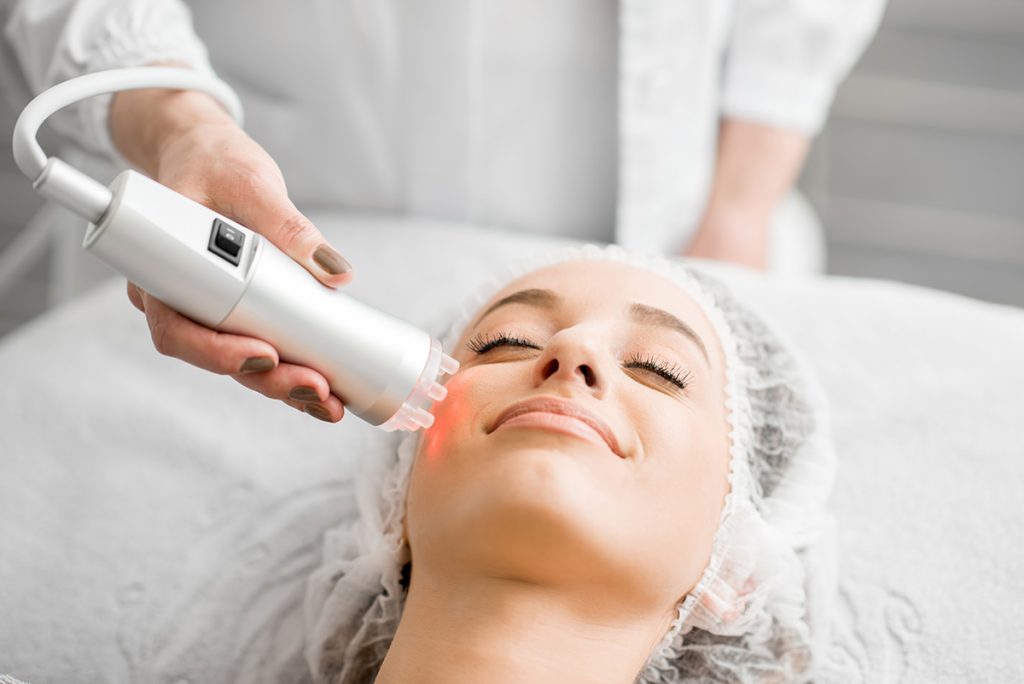 Cutting-edge lasers
Since the first medical lasers were introduced into surgical and gynecological procedures in the 1960s, they have been embraced by the esthetics industry, in dermatology clinics and medi-spas for skin rejuvenation, hair removal, acne, vascular treatments, body sculpting and more. They've also advanced at hyper speed.
Ildi Arlette, CEO of Results Continuum, a spa industry expert and consultant, says that while she continues to see demand for facial treatments, she also sees a great demand for body contouring and treatments. The ones that catch her eye are those like Venus Bliss, which uses diode laser applicators to target fat, and an (MP)2 applicator that combines Multi-Polar Radio Frequency and Pulsed Electro Magnetic Fields with advanced VariPulse technology to tighten skin, reduce circumference and reduce cellulite for a smoother, more contoured appearance. Arlette explains, "It's a new fat-reduction treatment that benefits the provider as it has no consumables, which helps keep more revenue in your pockets and benefits the client as it's affordable and has high customer satisfaction rates in terms of outcomes."
According to Helen Walsh, owner of Gentle Touch Spa & Laser located in both Halifax and Dartmouth, many of their clients seek non-surgical solutions for minor cosmetic issues. With client demand so high, she decided to invest in two Ultra Accent Prime systems from Alma Lasers: RF skin tightening technology and ultrasound fat loss technology, which can be combined or delivered individually. Walsh points out, "Demand for these services is huge in all age categories, and both are proven technologies for the services they deliver."
She says that the Ultra Accent skin tightening technology delivers with a relatively painless procedure that takes about 45 minutes and can be repeated every two weeks until results are achieved. Walsh notes, "The skin tightening is not a face lift and the ultrasound are not lipo results, but they both work and can make real change in clients committed to the process. We are 18 months into providing this service and clients continue to return and want more."
The burgeoning global esthetic laser market is driving other technology companies to jump on board. Biotechnologists and engineers at Fotona recently rolled out their latest through Clarion, the SP Dynamis laser system. Coming soon to Canada through DermaSpark, the Alpha System: 808nm Diode Laser + 3D IPL is developed by researchers at FormaTK.
Showing skin in a good light
Understanding the effects of light on skin health has been a driving force for hordes of researchers in the past few decades. And in the course of discovery, they've unearthed both good and bad news for skin.
Published research has shown that up to 50 percent of free radicals produced in the skin are due to exposure to HEV (blue light) wavelengths. Those are the same light waves emitted by consumer electronics like your mobile phone, and they contribute to premature skin aging by impeding normal cellular functions. Prolonged exposure to HEV light stimulates melanogenesis and contributes to hyperpigmentation. Unfortunately, sunscreens containing only titanium dioxide and zinc oxide are limited in their ability to protect against this type of light.
Here's the good news. In late 2020, Dr. Eric Bernstein, the lead researcher for Colorscience, released his team's findings in a study that looked at the effectiveness of iron oxides in blocking HEV when included in specific skincare product formulas. The results showed that Colorscience products All Calm Clinical Redness Corrector SPF 50, Even Up Clinical Pigment Perfector SPF50 and Total Eye 3-in-1 Renewal Therapy SPF 35, which are formulated with iron oxides, provide enhanced protection against blue light, especially when combined with zinc oxide.
"My entire career has been focused on the use of lasers in medicine and the study of sunlight. Sunlight causes a range of problems for our skin, including fine lines and wrinkles, enlarged pores, redness, pigmentation, skin sagging and skin cancer," says Dr. Bernstein. "Visible blue light is the most energetic, and therefore the most damaging light, to reach our skin and penetrates more deeply than ultraviolet rays. I have been interested, for many years, in ways to protect skin against all wavelengths of light. This research is important because it shows that skincare products formulated with iron oxides, combined with mineral sunscreen actives and other ingredients, effectively shield skin against harmful, high-energy, visible wavelengths."
On the other end of the light spectrum, researchers like UK dermatologist Glenn Calderhead, who has written more than 138 scientific papers on the subject, showed that light-emitting diodes (LEDs) that deliver low-level yellow light in combination with near infra-red light can improve the overall look of skin, help minimize the appearance of wrinkles and reduce the appearance of dark spots, sun damage and stretch marks. Devices like these come in a variety of shapes and sizes from standing lamps to face masks. Recently introduced to the market are BioPhotas' Celluma Delux and Lutronic's Healite II.
Observe 520 Skin Analyzer
The latest innovation by Observ, available through DermaSpark, is its 520 series, a state-of-the-art skin analyzer that can penetrate deep into the layers of the skin to help diagnose conditions that are not visible to the naked eye. The Observ 520 uses a patented skin fluorescence and polarized light illumination technology that instantly reveals skin conditions and lets clinicians share their findings with their clients in the development of targeted treatment programs. It produces six images taken under different lighting conditions, to enable the right diagnosis for a full spectrum of skin conditions.
The latest in micro-needling with the eDermaStamp
Founded in 1999, Dermaroller Germany is the original inventor of micro-needling, a collagen induction therapy in the esthetics industry. This process involves rolling or gliding a needling device across the skin to create thousands of tiny punctures, triggering the body to produce collagen as the skin heals. That technology has been taken to the next level with the eDermaStamp. At 150 strokes per second, it's the fastest on the market and safely glides over the skin without scratching or tearing it. As a minimally invasive treatment, micro-needling is clinically proven as an effective treatment for the common signs and symptoms of aging such as wrinkles, loss of skin volume and crepe-textured skin.
Tuning in on radio frequency (RF) energy
One of the latest studies to support the effectiveness of radiofrequency energy devices in esthetics found that the body naturally releases proteins when skin is exposed to a temperature over 46°C for more than three minutes; these proteins help the body produce collagen. Devices like the Repêchage LED Radio Frequency and the Lumenis Legend Pro+ heat the deep layer of the skin to these levels, improving the skin's appearance of firmness, boosting hydration and reducing fine lines, wrinkles and the appearance of dark spots.
A new formula for better results
The research team at ReadyMedical has created the first professional line of ready-to-mix sterile products, which are specifically formulated to enhance the results of all medical-esthetic procedures and promote effective skin healing. ReadyMedical offers four targeted solutions combined with hyaluronic acid that are designed to perfect esthetic treatments and boost results; these include anti-aging, skin healing, antioxidant and Vitamin C solutions.