Spa Eastman's Tonic Cuisine®: gastronomy and well-being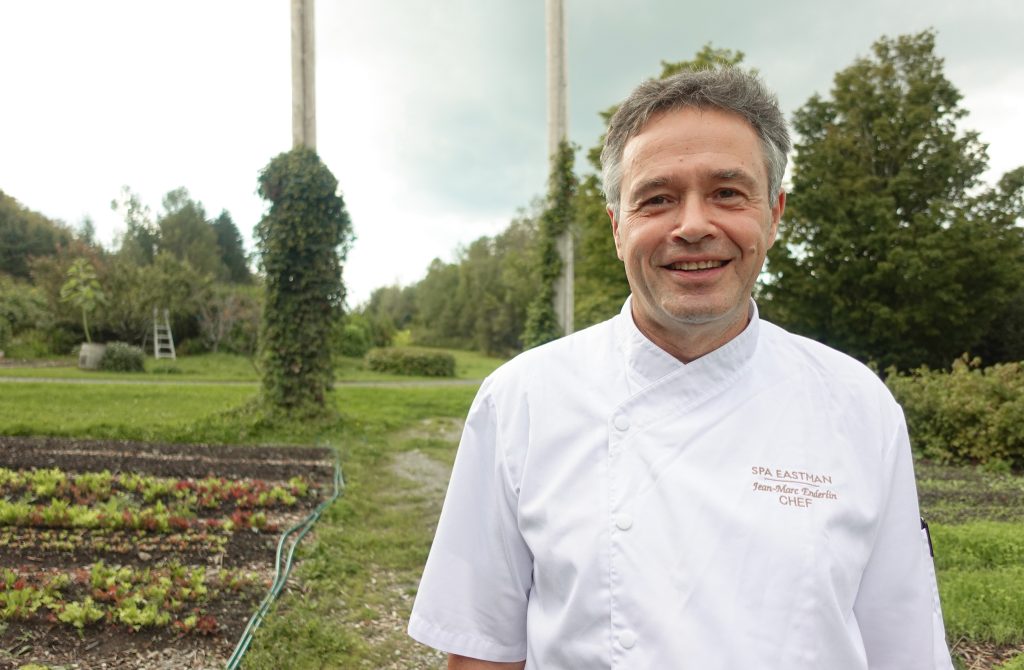 As a pioneer in the wellness industry (and recognized in 2022 as the "Best Wellness Retreat in Canada"), Spa Eastman has been, since 1977, demonstrating the vital role that food plays in contributing to good health and well-being. Based on solid, scientific research, the spa's team has developed Tonic Cuisine® — a gastronomic experience that does not mean sacrificing taste or pleasure.
Cuisine that does you good
The magic of this cuisine lies in the many health benefits that are observable in the short to long term. In addition to allowing the body to reach a healthier microbiota and maintain the immune system at an optimal level, there are the following tangible outcomes:
Increased energy level
Reduced inflammation
Better sleep patterns
More efficient weight management
Lower risk of getting cancer
When the science inspires the gastronomy
Tonic Cuisine® was inspired by numerous international works. Foremost among them was the research of Dr. Seignalet.
Seignalet was a French researcher, doctor, surgeon, and rheumatologist. His research is based on the following premise: the majority of our health problems are caused by an intestine that has become too permeable and that lets molecules through (undigested food particles, bacteria, toxins, pathogens) into our blood. As these molecules should not end up there, our immune system perceives them as foreign bodies and goes into defence mode, which leads to inflammation. At first, this inflammation is "silent", but then degenerates to cause different health problems, including headaches, painful menstruation, arthritis, osteoarthritis, cancer, and more.
In order to demonstrate his premise, Seignalet prescribed a specific diet to more than 2,500 patients (for whom the treatments for their diseases were not giving the expected effects) suffering from some 115 different diseases. This diet was based on top-quality products and consists mainly of foods that have not been genetically modified, preferably organic, with as little processing involved as possible. It also relies on foods without gluten or dairy products, which are difficult for the body to assimilate. The animal proteins that that comprise it are cooked at low temperatures to avoid the production of glycotoxins which are responsible for inflammation. The work of Dr. Seignalet spanned over 20 years and the results were spectacular in terms of remission. More than 91 (out of 115) diseases have shown a positive response to the diet.
Many other doctors inspired Spa Eastman, including Dr. Catherine Kousmine and her book Soyez bien dans votre assiette jusqu'à 80 ans et plus; Dr. Thomas Seyfried and his work Cancer as a Metabolic Disease; Dr. Barry Sears, author of Zone; and Dr. Jacqueline Lagacé, immunologist and microbiologist and author of Comment j'ai vaincu la douleur et l'inflammation chronique par l'alimentation, each inspiring the eight principles of Tonic Cusinie®.

Priority given to local products, preferably organic, high quality, and unprocessed
Gluten-free
No dairy products
Cooking animal proteins at low temperature
Low in carbohydrates (sugars)
High content of quality lipids (good fats)
Inclusion of lacto-fermentations
Inclusion of shoots and sprouts
No sacrificing taste
Even before taking into consideration the many ways in which it can boost your well-being, Tonic Cusinie® seduces you through the creative way it is presented on the plate. The appetizing menus alone are both tempting and visually appealing.
At Spa Eastman, guests enjoy three Tonic Cusinie® menus a day. The day always starts off on the right foot with a tasty breakfast. Its six-course menu selection includes as many surprising vegetarian experiences as it does delicious meat and fish dishes. If you have a sweet tooth, you can satisfy your taste buds with buckwheat pancakes and caramelized apples, vanilla coconut cream and roasted almonds. Those whose tastes run more to savoury, can choose avocado toast, salmon gravlax, cashew cheese, and cherry tomatoes.
After a morning of connecting with your inner self and with nature, and perhaps indulging in some treatments, it's time to enjoy round two. And lunch is just as tasty as breakfast. The most discerning gourmets will have no argument with the tender poultry and meat dishes, such as the succulent flank steak with Cajun spices served with puréed squash and celeriac, or the fresh fish and seafood, not to mention the richly flavoured vegetarian dishes.
In the dining room, clients can choose from a number of options. They can enjoy a memorable meal, dining on their own, looking out over majestic Mount Orford. Or, if they're travelling with another person and want to chat one on one, they can then sit at a table for two. Those who enjoy company can opt to join a table with fellow guests. Stimulating conversation is sure to follow — not least about the local-fresh cuisine. During the sunny season, guests can also be seated outside on the terrace.
The day ends on a high note with the evening menu. Six colourful dishes and a suggestion from the chef rounds out the gastronomic experience. Among the choices, diners typically find marinated giant prawns on a bisque of shellfish with cashew cream, brown rice noodles, vegetable tagliatelle, raw oil flavoured with paprika and dill, or the exquisite cauliflower roasted Tandoori style with button mushrooms, acorn squash, and pesto.
The taste of social connection
Many studies show how social connections yield positive benefits concerning physical and mental health. As technologies continue to reshape the way we connect with one another, more and more people around the world are feeling lonely and isolated. The restaurant offers a friendly table as a way to foster authentic, supportive, and meaningful relationships. Experts, employees, and guests can share a meal together and chat about their wellness journey. Many friendships are born at this table.
Canada's best wellness retreat
Ever since 1977, Spa Eastman has been offering unique programs that have earned it international recognition as one of the leading spas in the world. A pioneer in the wellness industry, the spa offers packages and all-inclusive "retreats" that allow guests to recharge their batteries and to escape the daily grind, in a gentle, pleasurable manner. The overarching themes of the spa's offerings are how to achieve a balanced lifestyle and the importance of following good health practices. In addition to the renowned Tonic Cuisine®, guests will interact with dedicated professionals (naturopathy, kinesiology); enjoy innovative, focused therapies (more than 40 body treatments using natural products); attend mind-and-body workshops and activities; and boost their energy by using the thermotherapy facilities and exploring 15 kilometres of nature trails — all amid a stunning, natural environment where well-being is front and centre.
Jean-Marc Enderlin
The Spa Eastman kitchen is run by chef and nutritherapist Jean-Marc Enderlin, who also specializes in raw food and hypotoxic (gluten- and dairy-free) cuisine. A graduate of the European Centre for Research, Development and Education in Nutritherapy at Brussels, Enderlin has worked in various restaurants around the world, including in Switzerland, the United Kingdom, South Africa, Greece, and Belgium. He was also kitchen manager of the famous Restaurant TAN in Brussels before settling at Eastman in 2012. For 10 years, his knowledge and experience has guided the culinary's mission; namely, to create a cuisine that is just as gastronomic as it is healthy.
A Beautiful Destination
Spa Eastman is located in the heart of the beautiful Eastern Townships, only a short drive from Montréal. It's a region known for its breathtaking views, lush rolling hills, crystal-clear lakes, and small, family-run farms. Les Cantons-de-l'Est (as it's known in French) starts 80 kilometres southeast of Montréal and sprawls across endless picturesque landscapes, not far from the New England states of Vermont, Maine, and New Hampshire.