The glow was real after visiting Skinprovement
Ontario is full of spas from one end of the province to the other, each more wonderful than the next. So how do you possibly choose a spa when there are so many?
For me, working at a Spa Inc. Magazine, as well as being a marketer, I tend to pay attention to any reviews or awards that spas have won, their location, their social media and web platforms, variety of treatments and products, among other things. Being immersed in the industry every day, working on pieces for the magazine and long hours of scouring the internet, my views on spas have truly been moulded here at Spa Inc.
I also find myself envisioning what I would do if I was to open a spa myself, daydreaming about its look and feel, how my social media would reflect it…all typical thoughts of a girl in spa marketing.
That being said, as I was reviewing our Spa Inc. Instagram account (@SpaIncMag), and all the gorgeous spas showcased online, I caught a glimpse of my dream spa come to life at Skinprovement Medi Spa & Laser Clinic.
Not only was I enamoured by their treatments, but I was impressed by the amount of success they've reached since opening in 2016. What initially caught my eye on Instagram was the Algae Mask Treatment; the beautiful array of colours that were completely customized for you really grabbed me. Customized treatments are a growing trend among spa-goers.
The "ahh" moment
As soon as I walked into Skinprovement I got that "ahh" moment. The design of the spa was modern, clean and chic; similar to the look of spas in California. I was greeted by the wonderful staff and was immediately offered refreshments. Since it was my first time at the spa, the staff brought over an Ipad where I filled in my information. Pretty typical you would think, but it truly put me in the moment to see questions such as what are your skin goals and what do you want out of this appointment. This allowed me to sit there and think of what I really wanted out of this treatment.
As I laid on the table, I enjoyed cocooning in a warm, heated blanket, a welcome sensation after coming inside on a cold day.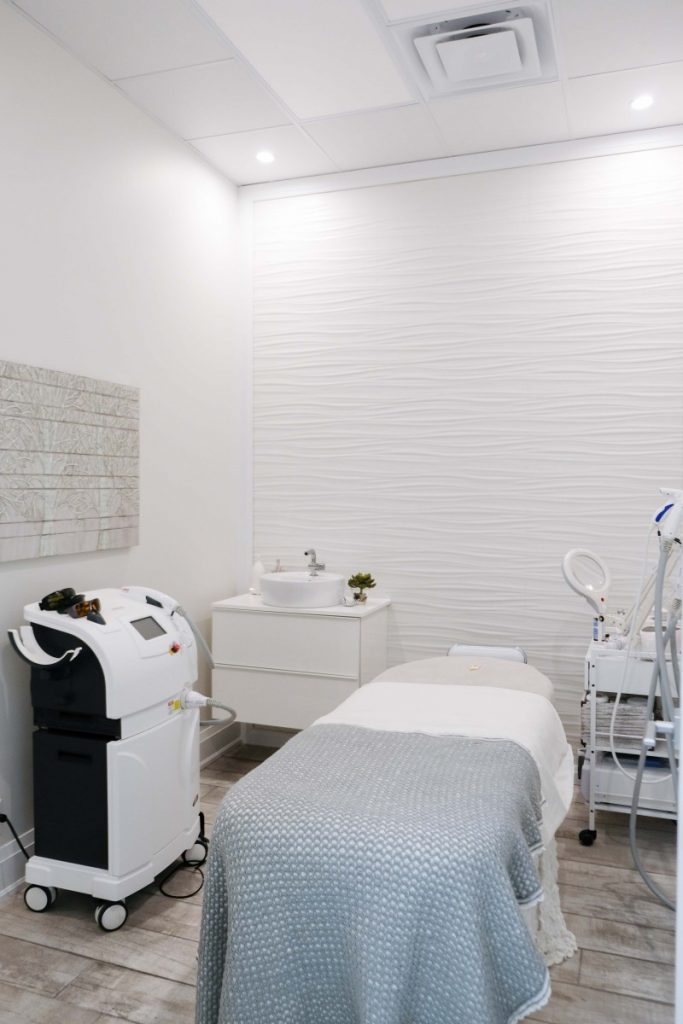 I haven't had a facial in a long time. Spa owner, Ashley analyzed my skin, offering her insights about my skin type and the results I hoped for with the treatment. Ashley could see my skin was dehydrated and recommended the Regenerative Mask made by Casmara. This mask has properties from seaweed, enriched with linseed and aloe vera which soothes, tones, and lifts the skin. Some say it's has a Botox effect.
She started by cleansing the skin, taking off any excess oil, which she followed with a wonderful lemongrass scented product. That was followed by dermaplaning; one of the main reasons I wanted to try this treatment. I've seen many articles and posts online about the positive effects of dermaplaning, but there are also a lot of misconceptions about the treatment.
What is dermaplaning?
It is the process of exfoliating the epidermis and getting rid of dead skin cells and vellus (peach fuzz) hair with a surgical blade.
Positive effects of dermaplaning:
Removes dead skin cells from the outer layer of skin
Removes build-up of dirt and oils
Leaves your skin smoother and brighter
Helps with cell turnover and is great for anti-aging
Allows for your skin to better absorb products
Misconceptions of dermaplaning: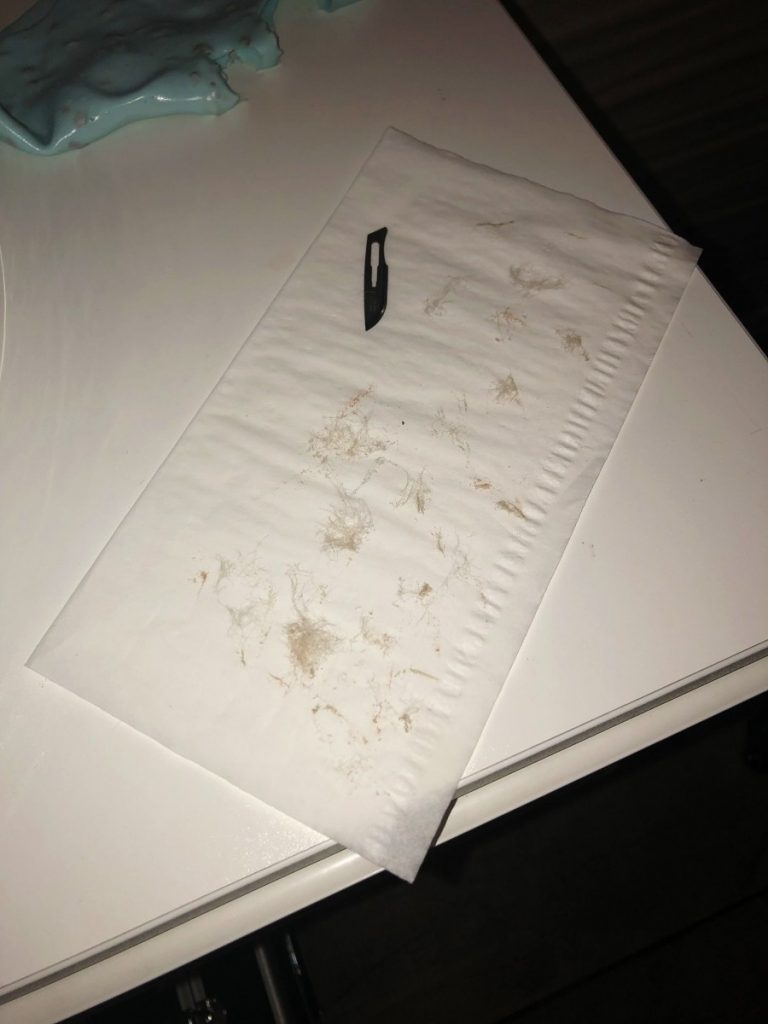 Once you remove the vellus hair, it will grow back thicker and darker
It will leave your skin feeling dull
It's painful
It will cause breakouts
I'm here to tell you that the positive effects they tell you about are true! As soon as the dermaplaning part was complete, my skin felt as if it could breathe. Also when Ashley showed me everything that came off my face, I couldn't believe I had been walking around with all of that on my face.
Following the dermaplaning, Ashley used a variety of Eminence products. When asked why she liked the Eminence skincare line, she explained, "Given the quality and choice available, we are able to cater to each individual's needs," Eminence is the "go-to skincare line during treatments" at Skinprovement Medi Spa & Laser Clinic.
A little background:
We were first introduced to Ashley and John-Paul through their skincare line Skinprovement Organics-see blog here. They created this line to follow suit with their philosophy "to utilize the best ingredients in products that are eco-friendly, organic where possible, and deliver quality results". As their line continues to grow they will supplement some of their products during treatments. Currently, their products are used by clients for their at-home regiments.
Ashley kindly provided me with their Hydra-Glow Serum. She recommended this product for a few reasons; first, it's their top seller in the clinic as it's great for all skin types and provides the results clients want, and secondly, it helps with dehydrated skin – which I definitely need at this time of year.
This product contains heavy hitter ingredients such as:
Camu Camu which is rich in Vitamin C and acts as a powerful antioxidant on your skin
Aloe Vera, known for soothing and moisturizing the skin
Collagen which also helps moisturize the skin
Hyaluronic Acid, known to reduce fine lines and wrinkles, moisturize the skin, and much more
Citrus Sinensis (Sweet Orange) Peel Oil and Citrus Paradisi (Grapefruit) Peel Oil which produce a wonderful citrus scent
BONUS: All ingredients are organically produced.
Back to the treatment:
When it was time for the mask to go on, Ashley asked if I was claustrophobic, as it can go over your eyes and mouth. I chose to have it over my eyes only as I'm too chatty to be silenced by a mask.
Close your eyes and picture this:
A mixture of soft music, a warm blanket, a cooling mask on your face and a light massage. Just thinking about it brings me back to that moment of serenity.
At first, I was nervous to have the mask over my eyes, but I was glad to have that extra treatment on my eyes and it truly added to the sense of relaxation.
As I laid there, I wondered why more men don't go to the spas to experience this level of calmness. I was surprised to learn that Skinprovement has around six to seven men who come to the spa every day. Ashley explained that when she first envisioned her spa, she wanted to create something that welcomed both men and women.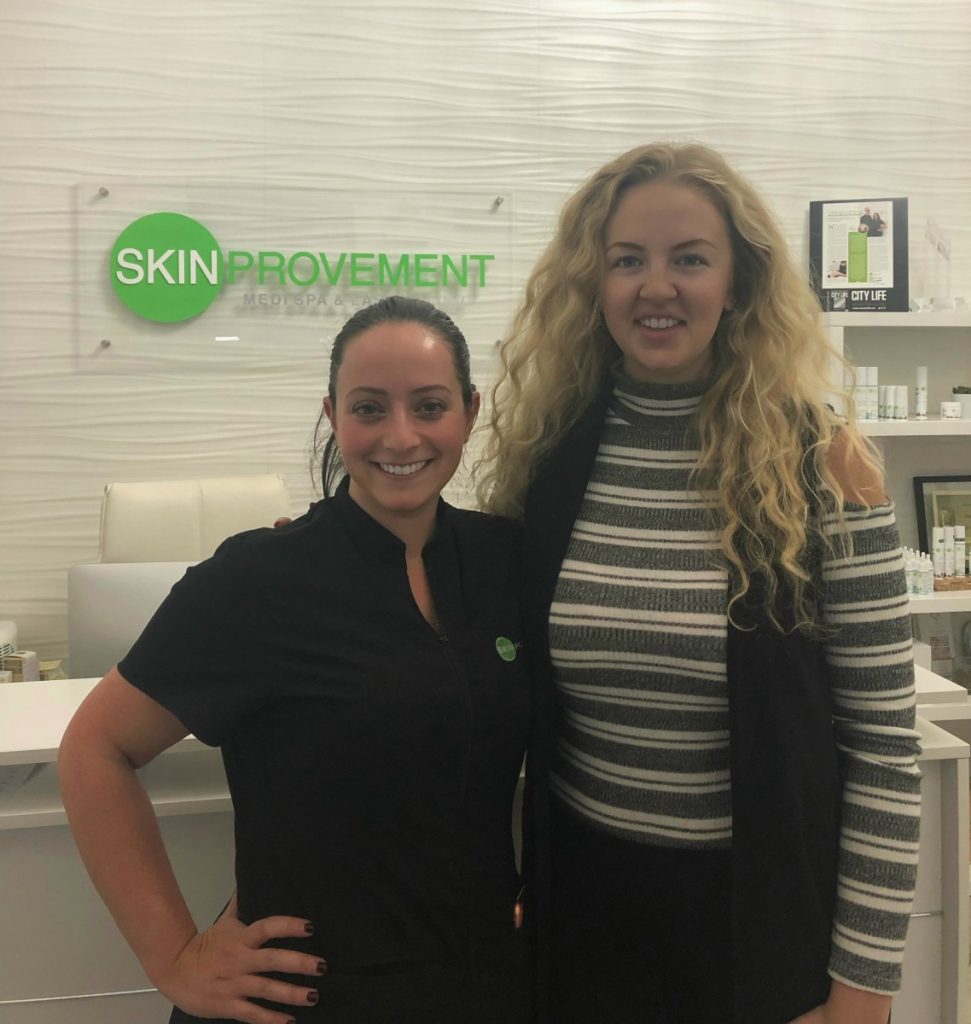 By the end of the treatment, I felt like a new person.
Thank you to Ashley and John-Paul for having me at the spa and for providing me with the utmost in service. I will definitely be back.
To check out their treatments and book your service today, visit: www.skinprovement.ca/
---